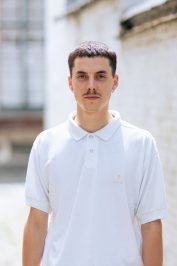 Dorian Accoe is a predoctoral researcher affiliated to the department of Philosophy and Moral Sciences. He obtained a master's degree in Moral Sciences at Ghent University in 2021. Currently, he is working on the ethical aspects of the involvement of the partner in abortion trajectories and medically assisted reproduction.
His PhD research will address ethical issues concerning the management of (suspected) harmful mutations in sperm donor conception.
Dorian Accoe is secretary of the Bioethics Institute Ghent (BIG).
E-mail: Dorian.Accoe@UGent.be